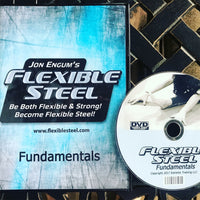 Flexible Steel Fundamental Videos
Jon Engum and his international team of flexibility experts will give you in-depth professional instruction on the most important Flexible Steel movements designed to release the " parking brakes" from your body and breathe new life and mobility into your training with 4 easy-to-follow programs.





ORDER NOW

LOGO WEAR
Check out our cool logowear.
Engum's Academy, Flexible Steel, and Extreme Training T-shirts, Hoodies, and much more.
SHOP CLOTHING