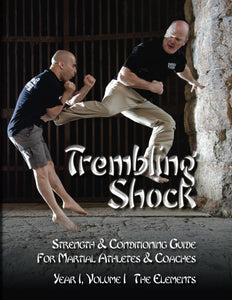 Trembling Shock
Regular price $39.95 Sale
Strength & Conditioning Guide for Martial Athletes & Coaches.
Volume 1 - Autographed Edition
Discover How to Hit Harder, Faster, and Last Longer than even the Toughest Opponent
Grandmaster Engum Reveals the Blueprint for Martial Strength and Conditioning Success by Seamlessly Combining Kettlebells, Barbells, and Bodyweight Training Methods.
"Using time tested training methods that have earned his athletes medals and propelled him to the top of the food chain as a Master-level StrongFirst instructor, he carefully reveals his methods and programming gleaned from decades of personal experience and research. No ordinary martial arts how-to or a simple workout guide with a bunch of random exercises thrown together, Trembling Shock is packed with insightful vignettes and explanations of the how & why things work. In this book, Engum methodically and carefully explains the methodology behind his exercise progressions, freely sharing his hard-won insights into the logic behind these movements. He gives clear programming examples for you to follow until you become familiar enough with his thought process to be able to personalize the programming on your own. With kettlebells, barbells, and bodyweight strength & mobility exercises at your disposal, your strength and conditioning will be light years beyond merely doing more rounds on the heavy bag and jump rope double-unders until you vomit."
Dr. Mark Cheng, L.Ac., Ph.D.
Soft Cover
106 Pages signed by Author