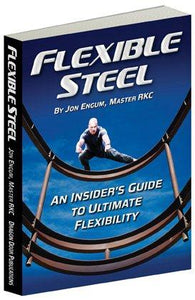 Flexible Steel Book ( Soft Cover) Signed By Author
Regular price $39.99 $30.00 Sale
An Insider's Guide to Ultimate Flexibility
By Grandmaster Jon Engum
Soft Cover. Signed by Author.
90 pages.
7th Degree Black Belt and Taekwondo Grandmaster, Jon Engum currently displays an uncanny combination of flexibility and whipcord strength. Jon moves with speed, suppleness and enviable power—a model to his younger students and a terror to those who face him in a fight.
But it wasn't always this way. Because there was a time of crisis in Jon's martial career where he began to lose his edge—from the effects of aging, plus the wear and tear of constant combat.
This book reveals the complete
"Flexible Steel" system
Jon Engum developed to regain and maintain his edge as a fighter. But even more importantly,
Flexible Steel
can give you the most priceless gift of all: the freedom to move, pain-free, with easy power, graceful strength and a sense of fluid well being.
"Flexible Steelis my favorite stretching book. Jon Engum reached his forties before he reached his first split. Follow his remarkable journey and achieve the flexibility you never thought possible"
—Pavel Tsatsouline, author of Relax into Stretch and Super Joints